So I've been fortunate enough to have the BMW 2 Series Active Tourer on extended loan from the lovely folks over at BMW. The first thing I noticed about the Active Tourer when I picked it up was the height. Despite the relatively small footprint, the car stands nearly as tall as me. At first glance you might think the Active Tourer is 'just another family car', but it's so much more than that…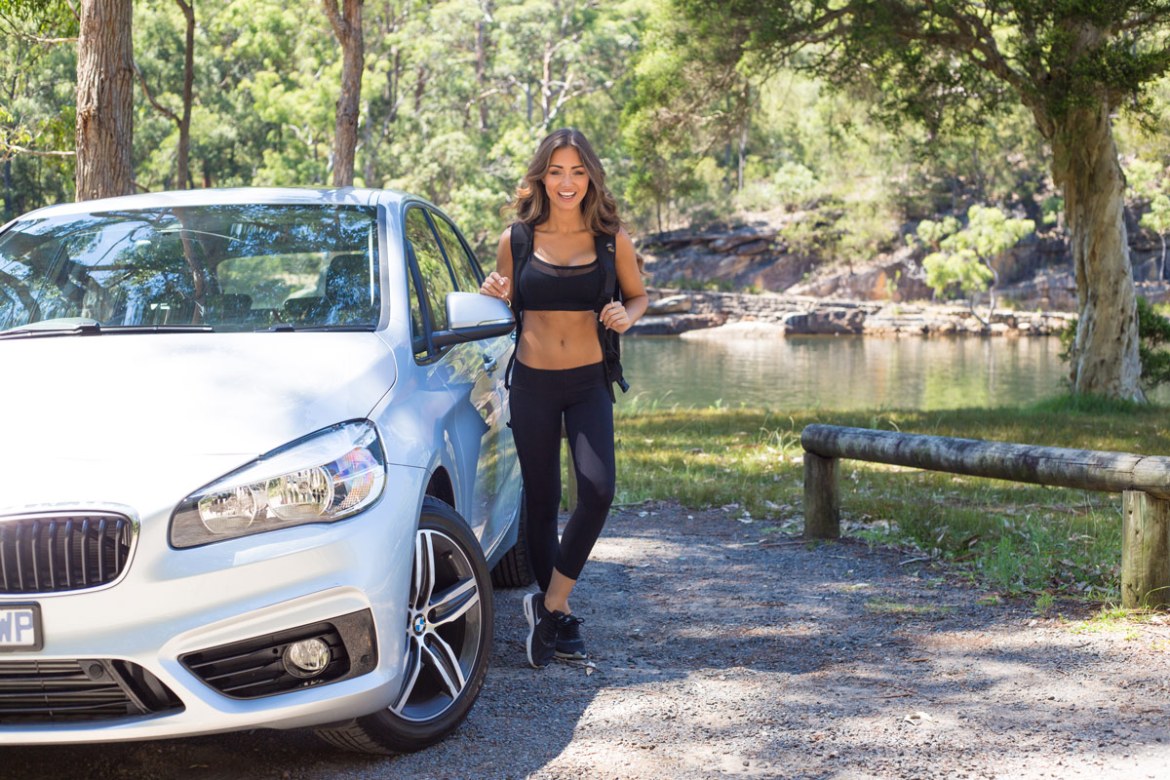 The Size
I've said it before, and I'll say it again, the car is tall. I felt like I had my own mini SUV, and even with a car full of friends, there was no lack of leg room, every seat was comfy, and also (I'd never seen this before), you can adjust the length of the actual bum bit of the seat to make it longer if you choose. Probably pretty good if you are super tall!
In terms of boot space, it was great, not once did I think we could have done with more boot space, even with 5 girls with all their bags for a weekend away!
Oh yeah, I could also fit my medium size surfboard in the back too… (Note to BMW Sydney: Sorry about the sand guys! Whoops!)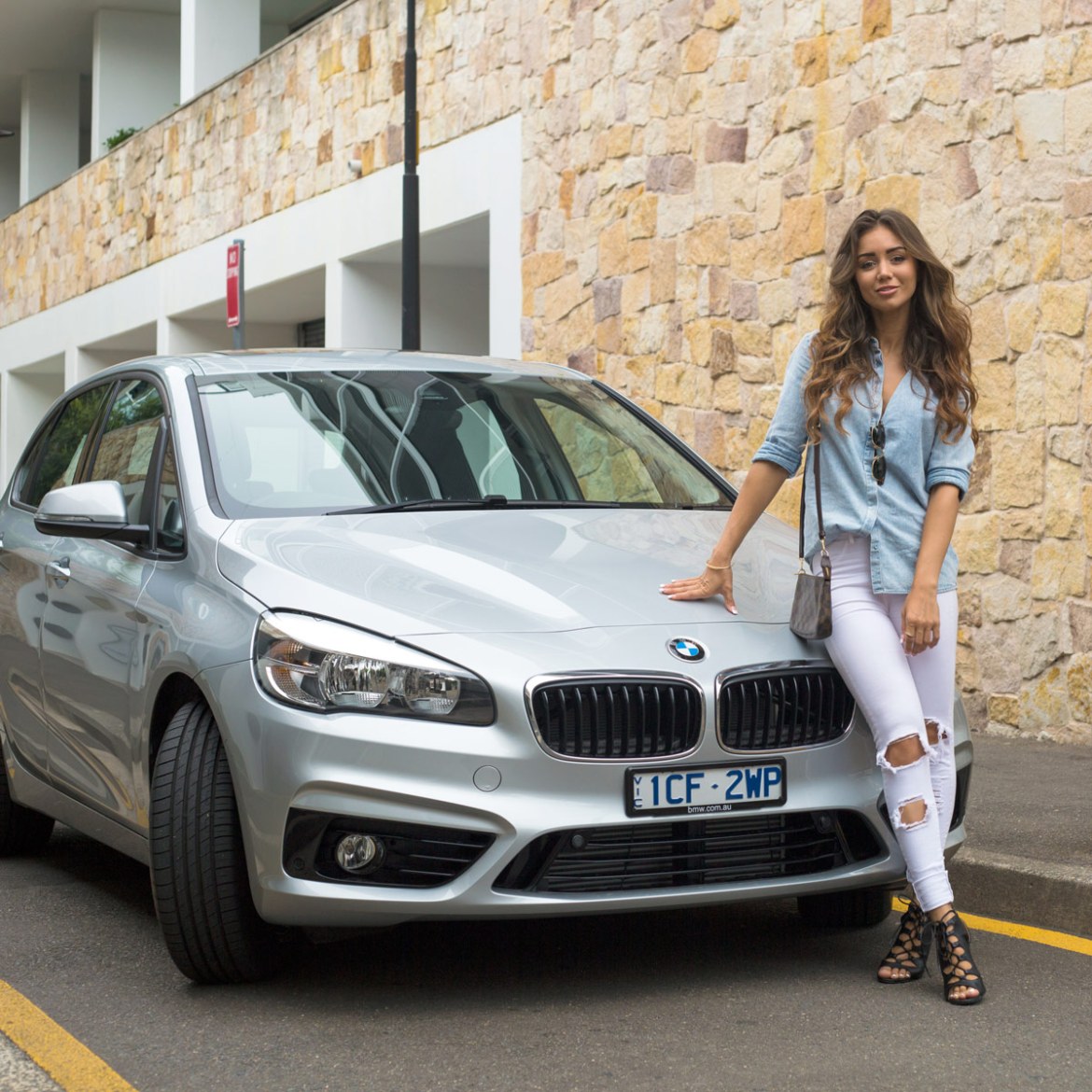 The Roof
One of the coolest things about the Active Tourer was the full length sun roof. The whole thing is glass (with a sun cover), and there were two settings. Firstly, you could retract the sun shade cover, if you just wanted more light in the vehicle, or if you wanted to go the whole hog, you could open the glass too. There's a clever wind deflector, which seemed to stop my hair blowing around even it was open. Clever thinking BMW! Oh yeah, also….we all got a tan. It was awesome ?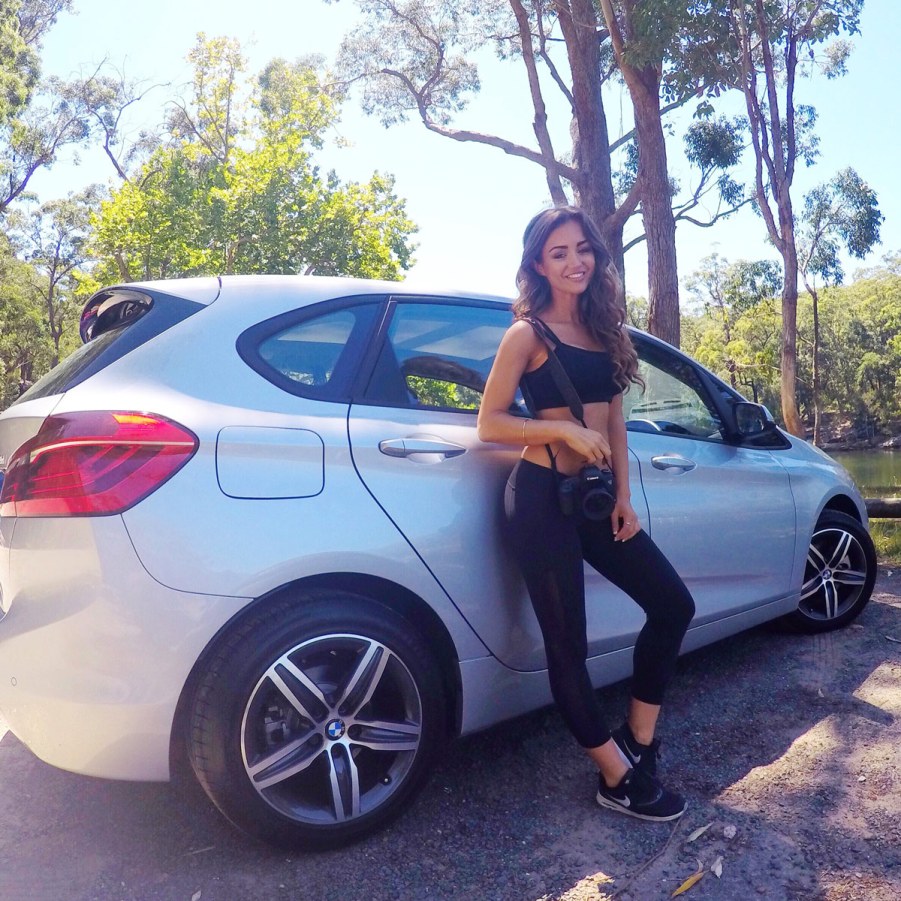 The Engine
So I'm not a car tech enthusiast, so I'm not going to go in to detail about the specs of the engine, however I do know that I had the 1.8 Diesel and even with a car load of people, I never felt like it was underpowered. I braved 'sports' mode one day, and then I got scared, and put it back on comfy mode… far more my style.
The Sound System
What can I say that you don't already know. BMW sound systems always kick ass, and the 2 Series didn't disappoint. I connected my iPhone via Bluetooth as soon as I picked the car up, and from there, every time I got in, Spotify would just stream right away. It was great. I also use Siri ALL THE TIME, yes I'm that person walking down the street giving my phone voice commands, and it was so convenient to be able to have access to Siri through the car too.
I don't really ever take calls when I'm driving as I find it too distracting, so I turned this feature off for most of the time, but when I did use it, the audio quality was incredibly clear, and probably most importantly, the person on the other end of the call didn't have that 'are you talking to me from a cave?' sound thing happening. So overall the sound system was cool.
Sat Nav
I've been so used to driving around using Google Maps on my iPhone, that it's a little strange to go back to an in-built nav system that doesn't have the latest maps and street data. I got lost using the sat nav a few times because it was telling me to go down roads that had either been converted to one way, or were 'no left turn' for example, but all in all, it was more useful than not. The system also linked to a discreet icon based instruction screen next to the speedo which made it really easy to glance at the next step in the route without getting distracted from driving.
The Boot
OK, so this has to be the COOLEST thing ever. One click on the key and the boot would open… pretty cool… but we've all seen that before right? Then… when you are finished you can press a button the boot and it automatically closes for you. I felt like I was a female James Bond! Particularly useful if you have your hands full and need to shut the boot.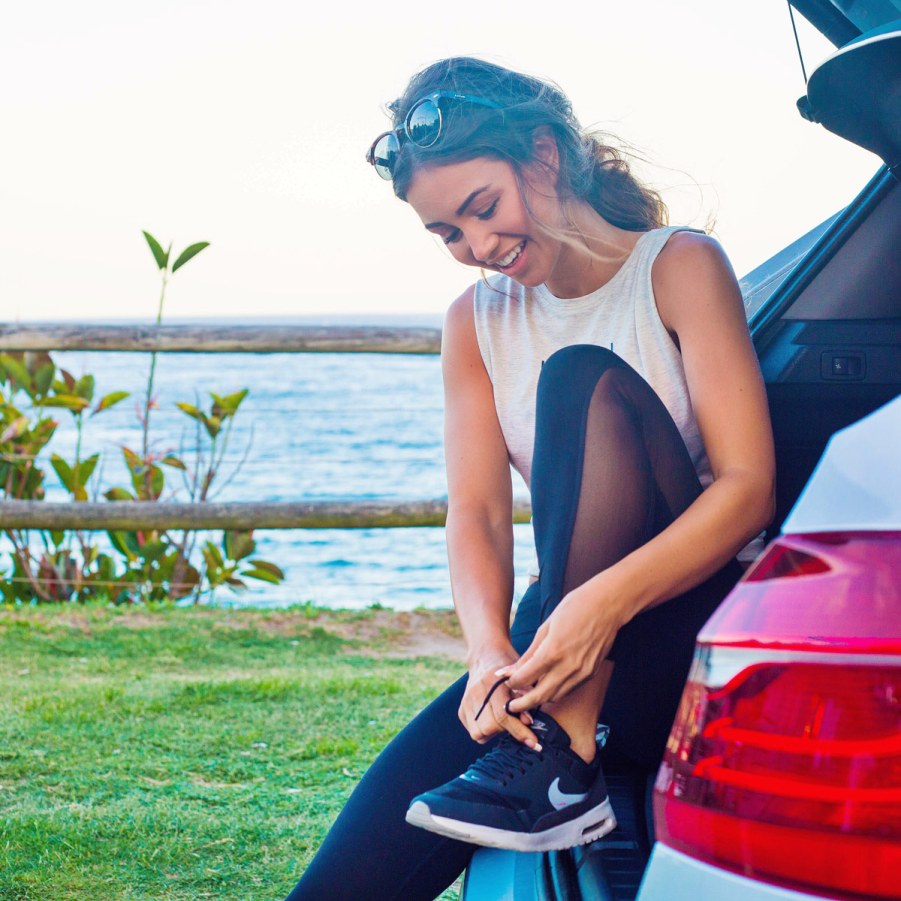 Auto Park
So… I feel a bit silly, but I only discovered this feature in the last few days of having the 2 Series Active Tourer after accidentally pressing the wrong button. However, THE CAR CAN PARK ITSELF! OK, I know this is not really a super new thing, but it's the first time I've had a car that can park itself and it was AWESOME. The car must be covered in little sensors that detect everything around you, and so once you get near a car parking space, it detects it, and tells you to put the car in to reverse. Then you take your hands off the wheel, hover your foot on the break to control the speed and watch the TV in the dash to see where you are. It didn't once get it wrong and it was really fun to use. Now all I need is a car that can drive forwards automatically for me too, and I'd be set! ha ha!
The BMW 2 Series Active Tourer really does live up to it's name. It's great for people with active lifestyles who love adventure. I found myself planning for more exciting weekends than usual, simply because I wanted to get out of town and do something fun with the car. I'm considering buying a new car this year, and the 2 Series Active Tourer is now top of my list, although I haven't driven the M3 yet… ? *hint hint wink wink!*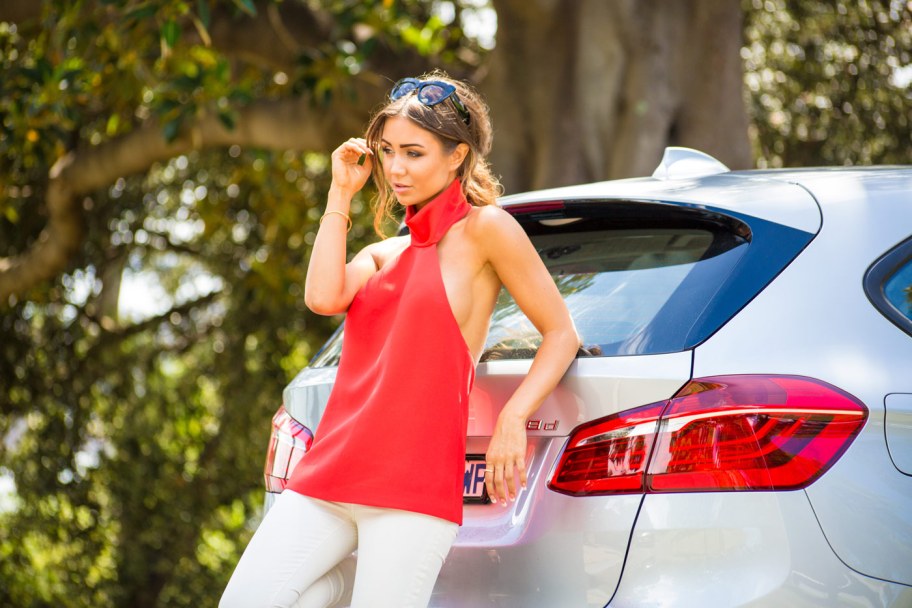 I want to say a massive thank you to the BMW Sydney team for letting me loose with the 2 Series Active Tourer, it's an incredible all round car, and perfectly suited to both inner city, and out of town driving. Highly recommend! Click here to Book a Test Drive.
Park Location: Royal National Park, New South Wales, Australia
Park clothing: Nike & SLINKII