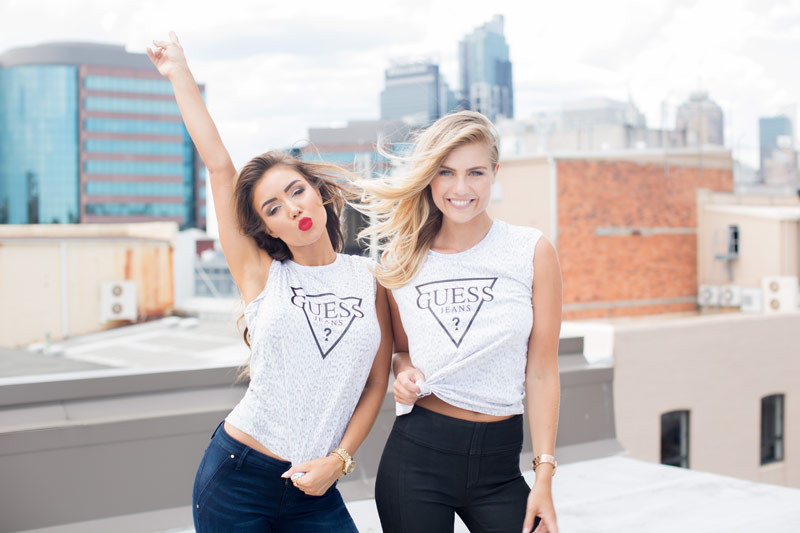 I think we've all clued onto the notion that these days smart is the new sexy. But did you know the same applies for your jeans? That's right. In the era of smart phones, smart watches and smart boards we now have SMART DENIM!! But what on earth is smart denim? It's the clever brainchild of denim legends, GUESS.
The brand has launched a new denim concept, #SmartGUESS Technology, the idea of which is to contour and lift in all the right places. The best way I can describe it is like wearing shape-wear inside your jeans but without the discomfort. The jeans are cut from incredibly soft and lightweight material so they're easy to move in, sit in, even dance in – while moulding perfectly to your body to enhance and lift your figure. It's like a push-up bra for your booty! Yes please!
It was awesome to shoot for GUESS and take some of their SHAPE-UP seamless jeggings for a test-run. Elyse and I had a ball in these and literally ended up dancing on the rooftop!
The range of #SmartGUESS denim has just become a staple in my wardrobe. Having a flattering pair of jeans is so essential and can really make or break any outfit. They're ideal for someone like me who's always on the go, or travelling because they're super stretchy and comfortable so even on long-haul flights, I can now look kick-ass, literally! ? Say goodbye to my daggy flight trackies!
My 3 favourite styles of SMARTGUESS Denim are the Mid-Rise Push-Up Jeggings in Coated Black Wash which Elyse is wearing, the Shape-Up Seamless Jeggings in Washed Shy Wash which I'm donning, and the JeanCare High-Rise Jeggings with White Silicone Rinse.
To me, this is the perfect set of black, white and blue denim jeans. I haven't got the white ones yet but I'm so desperate for them so as soon as I get my hands on them I'll make sure I show you another pic.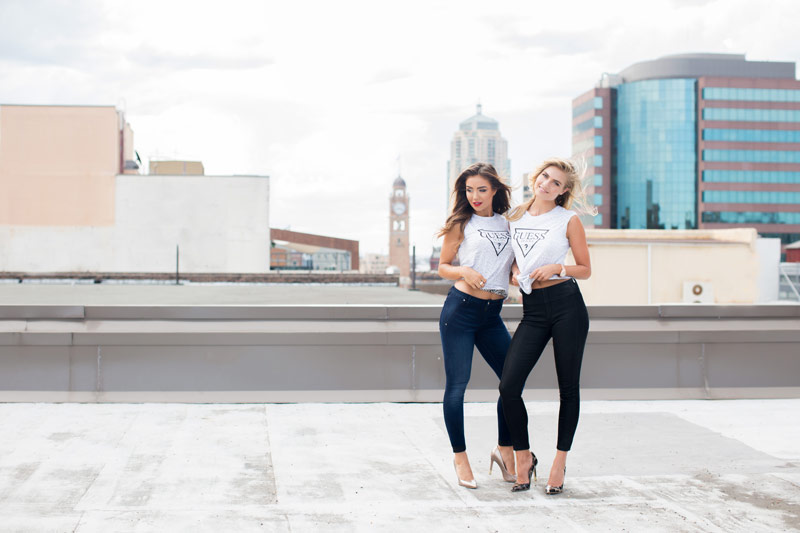 These jeans are my new faves. If you want to get your hands on some, make sure you head over to GUESS now!