Happy first day of summer!!!
I am so excited that the silly season has now begun. And what a scorcher today was! It's honestly not so bad coming back from holiday when you get to return to a stunning Bondi Beach in 35 degree heat. You probably know that I love my beach days and the tropical climate and one of my favourite things about summer is that I get to indulge my sunglass obsession. I've decided that this summer, I'm going to embrace the good old Ray-Ban Aviators like never before.
In fact, right before Fiji I popped into Sunglass Hut at the airport and stocked up on these bright pink reflector shades and the trusty pilots. They go with absolutely everything. I just need to figure out how to stop Kane from knicking them, I thought 'pink' might deter him but, alas, I was wrong!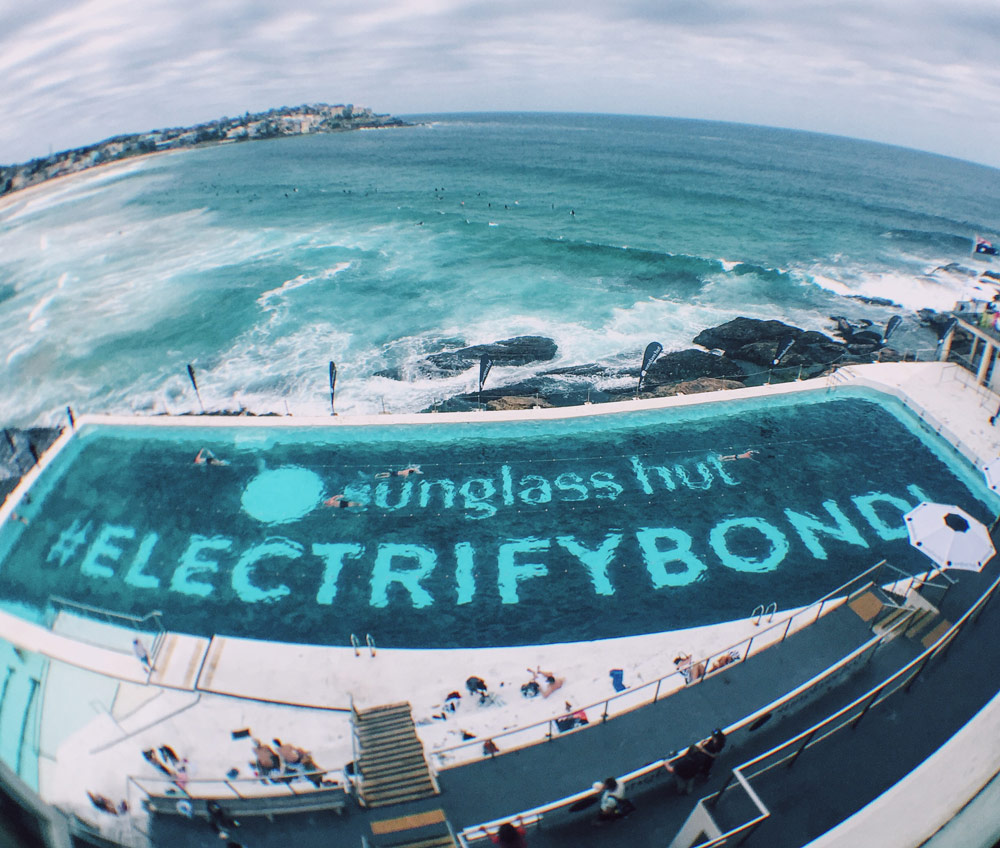 Then just over the weekend Sunglass Hut took over Icebergs in Bondi for their 'Heat Things Up' event so a bunch of us went and celebrated the start of summer with fresh coconuts, pool swans, music, and a sushi train of sunglasses for us to try on. Georgia was rocking the coolest Miu Miu pair and kept getting compliments on them. I'm pretty certain she's gone straight to the nearest store to grab them for herself!
They even had an enormous #ELECTRIFYBONDI in the Icebergs pool. Apparently you could see it from the moon. Haha just kidding. But it was pretty spectacular!
It was such a fun event with great friends. It certainly was the perfect start to what's going to be an amazing summer here in Sydney. I can't wait to see what they do next.
You can check out the fun from the day at @sunglasshut on Instagram or @sunglasshutau on Twitter – they had this amazing little gadget called the Twitter booth which looked exactly like the mirror from Beauty and the Beast but instead of showing your reflection, it took a bunch of photos and made a gif that posted directly to twitter. So I apologise in advance for all our twitter-spam! ?