Now that Valentine's Day has passed, next year's plans are probably the last thing on your mind. But, to help you avoid those last-minute pressures, we have compiled a list of some of the most romantic hotels, destinations and resorts around the world to help you plan in advance and make next year's the one to remember!
ONE & ONLY PALMILLA, LOS CABOS, MEXICO
This resort rests amongst the incredible landscape of the Baja Peninsula, alongside the Sea of Cortez. The beachfront setting and picturesque ocean views sets the perfect tone for a romantic vacation. You'll definitely get to indulge in luxury, with access to their renowned spa, beauty salon and exquisite dining experiences. This is the ultimate romance-meets-tropical getaway, where you'll spend your days dipping in the ocean for a swim, sipping delicious poolside cocktails and experiencing the finer side of life.
ANASTASIS APARTMENTS IMEROVIGLI, GREECE
For the ultimate summer trip for two, look no further than the Anastasis Apartments in Santorini. The resort incorporates the beautiful blue and white landscape that is distinctive to the island, while also providing breath-taking views of Imerovigli's coastline. During your stay, you'll be living it up with relaxation massages, sunset swims in their outdoor infinity pool and incredible food. Talk about romantic!
VILLA CORA, FLORENCE, TUSCANY, ITALY
If you're seeking a romantic destination that blends modern luxury with historic culture, then Villa Cora is the spot for you! You'll be amazed by the beautiful gardens, architecture and history of this resort. There are so many different dining experiences available, such as 'Pizza & Champagne' evenings and exclusive romantic dinners on Valentine's Day – perfect for all you foodies! Pair this with the resort's luxury wellness centre, outdoor pool and spa services, this spot is sure to be a pleaser for all.
RIAD KNIZA MARRAKECH, MOROCCO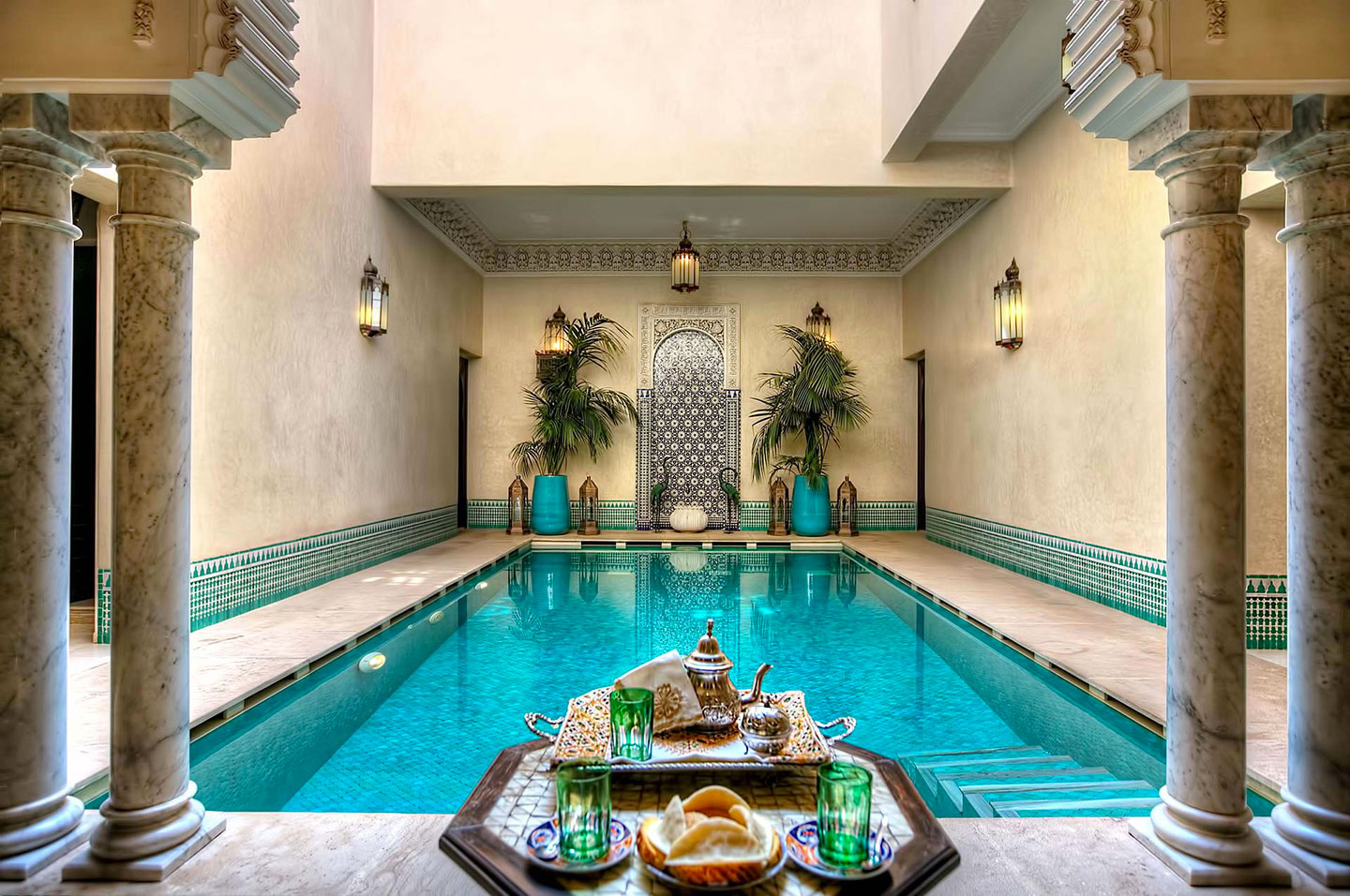 This spot is the product of talented local craftsmen and artisans who came together to restore a two-hundred-year-old mansion, transforming it into the luxury hotel it is today. Walking through the hotel, you'll feel the strong local influences which is seen through its antique decor and interior detailing. The paintings, embroidered furnishings, touches of silk and local textures all join together to create the ultimate luxe Moroccan experience.
RIAD JOYA MARRAKECH, MOROCCO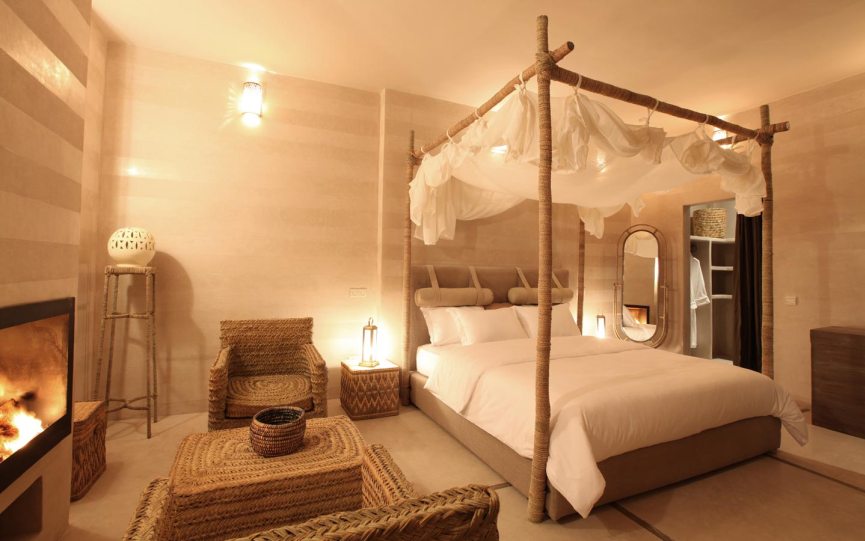 With only 7 suites making up this luxury resort, you'll feel as if you have the entire place to yourself. The Riad Joya exudes a magical bohemian-luxe feel, which incorporates both traditional and modern elements of the Moroccan culture to create a truly romantic atmosphere. This spot is ideal for those who love to embark upon a cultural journey, as you'll get an authentic experience of the local cuisine, traditions and style.
THE MALDIVES
As many of you know, Kane and I recently jetted halfway across the world to the beautiful Maldives, which was honestly one of the most stunning locations I have ever been to. Not to mention, also one of the most romantic! We got to experience both the Six Senses and Como Maalifushi Resorts which were both breath-taking. There's nothing better than waking up in your personal luxury suite, surrounded by pristine ocean views and sippin' on cocktails all day long. Book your flights and grab your loved one for the perfect romance getaway!
LE SIRENUSE, POSITANO, ITALY
This luxury boutique hotel is easily one of Italy's most recognisable seaside destinations. If you choose to stay here, you'll quickly fall in love with its unique style and flair which sets the perfect mood for romance. The resort is decked out with twinkling lights and have a dining room that's purely lit by four hundred candles! It's these unique details and the strong touch of Italian culture that makes this a truly memorable spot!
ATLANTA TREEHOUSE, ATLANTA, UNITED STATES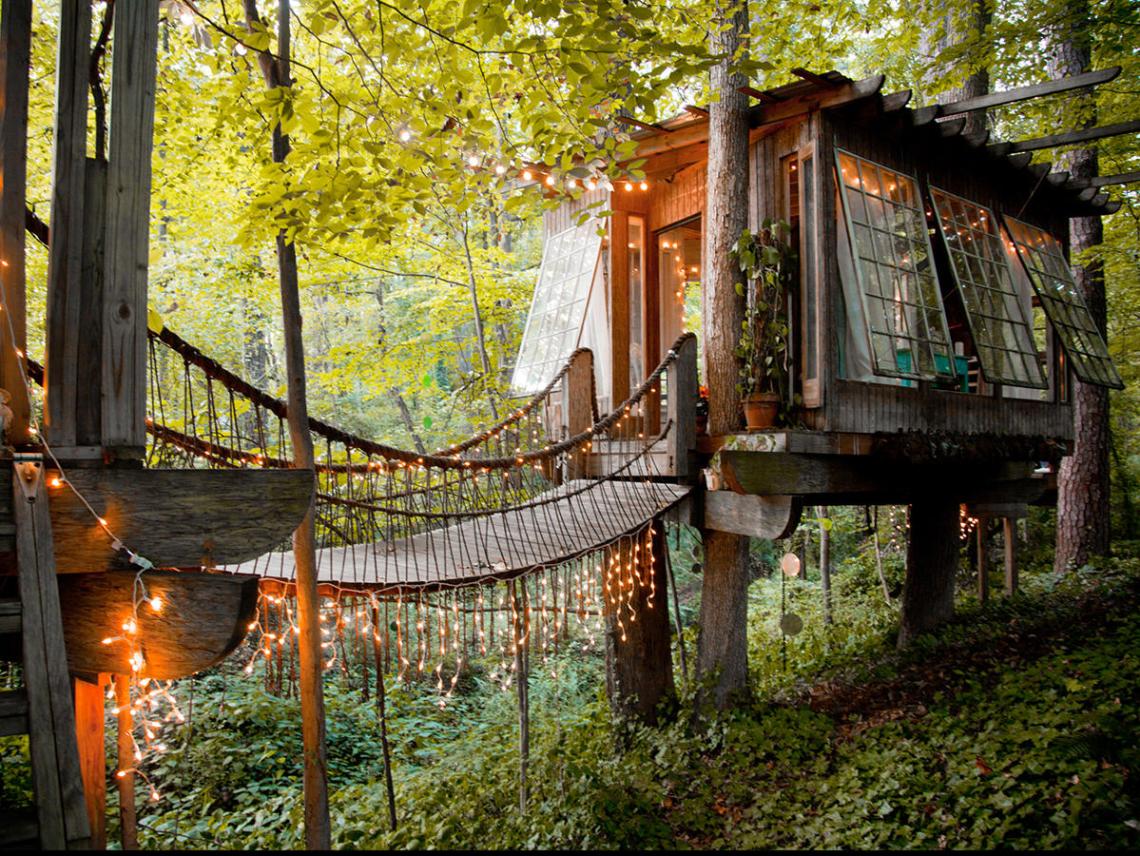 It's not hard to see why this Secluded Intown Treehouse in Atlanta was voted Airbnb's #1 Most Wished-For Listing Worldwide last year. This is the ultimate getaway, for those who want to escape the fast-paced life of concrete jungles and spend a few nights relaxing within nature. There's nothing more dreamy than falling asleep in the trees (literally), waking up to birds tweeting and feeling the breeze of the forest. It seriously sounds like something from a fairy tale. Not only that, the intimate suites and sparkling fairy lights add the perfect touch of romance!